2/13/2016
2/12/2016
Great review from Jaffalogue!
1/27/2016
It's Gamera time again with the DaiKaiju Network!! Sync your DVD of Gamera vs. Iris and watch along with Patrick, Josh, and Kat. [click here to listen]
11/16/2015
Patrick, Josh, and Kat watch Gamera 2: Attack of Legion with the DaiKaiju Network. Sync your DVD and watch along with them. [click here to listen]
07/08/2015
04/05/2015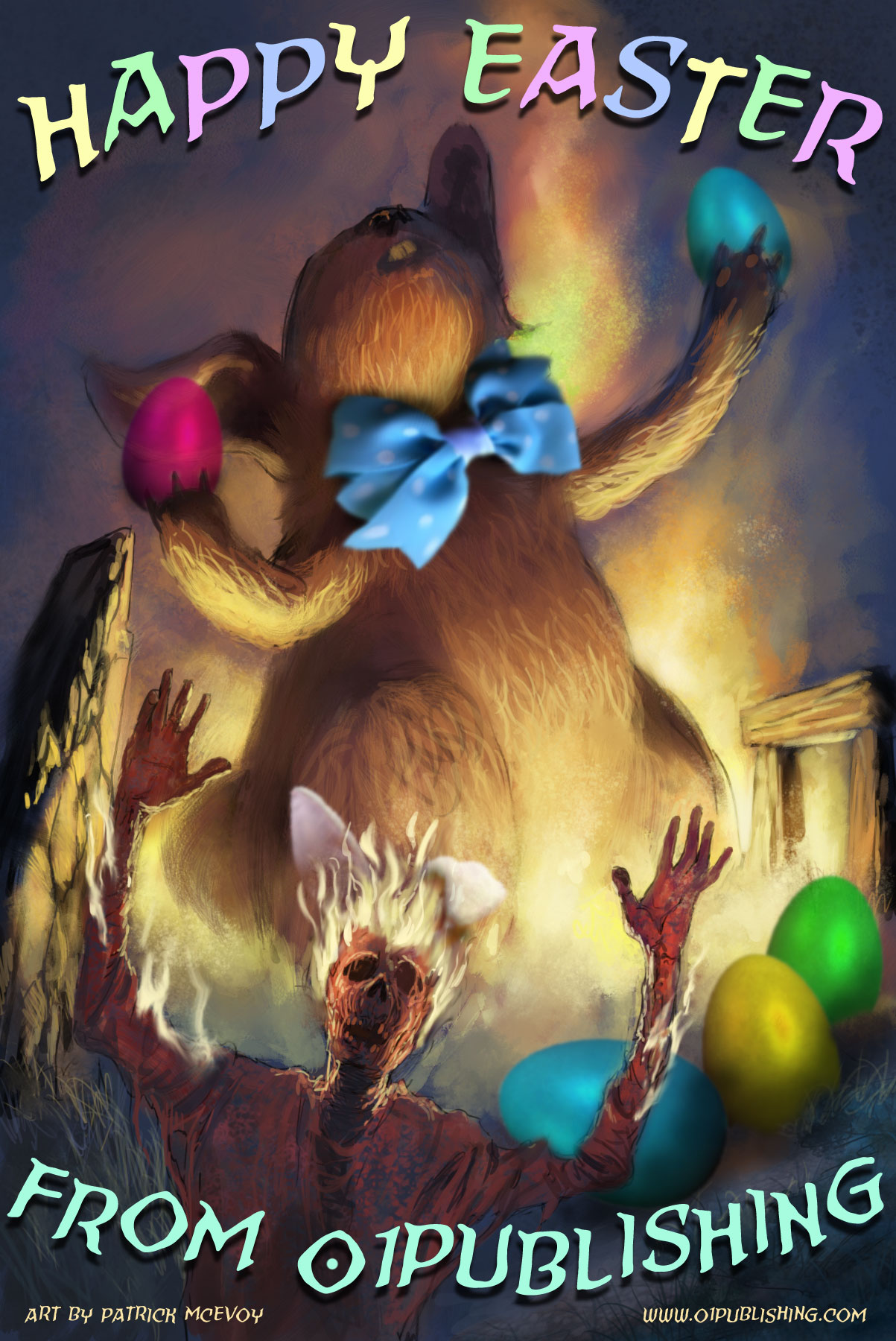 12/24/2014
The Kaiju are getting ready for a holiday bash!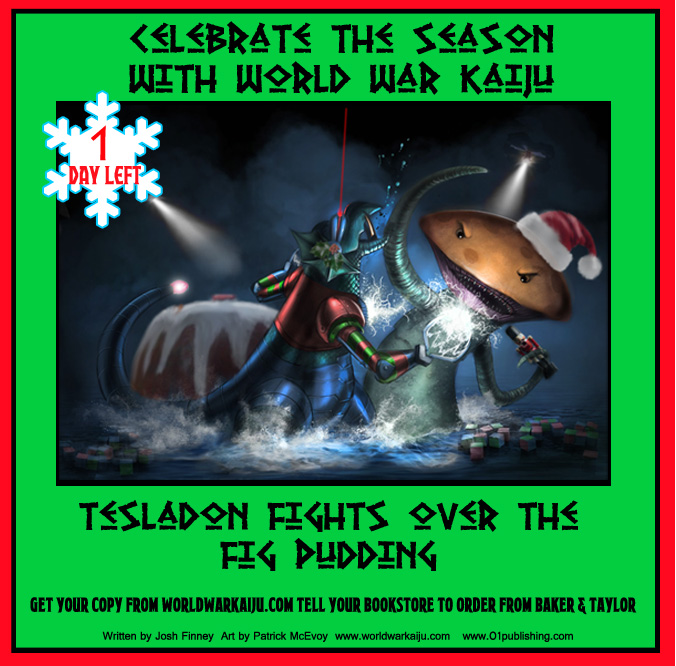 12/23/2014
The Kaiju are getting ready for a holiday bash!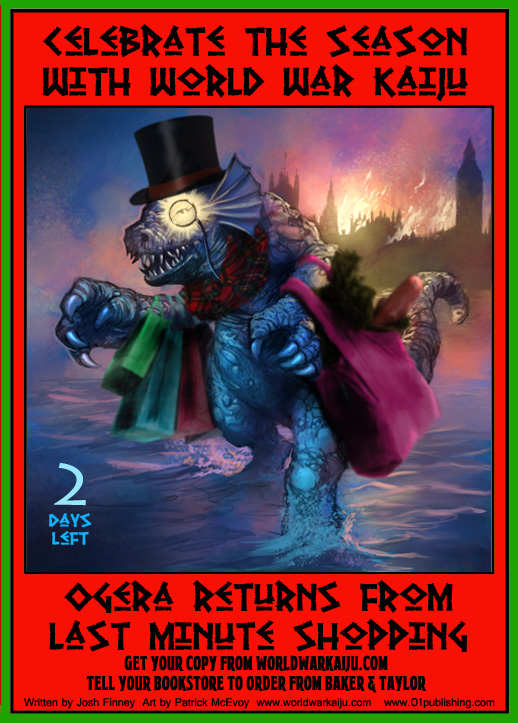 12/20/2014
The Kaiju are getting ready for a holiday bash!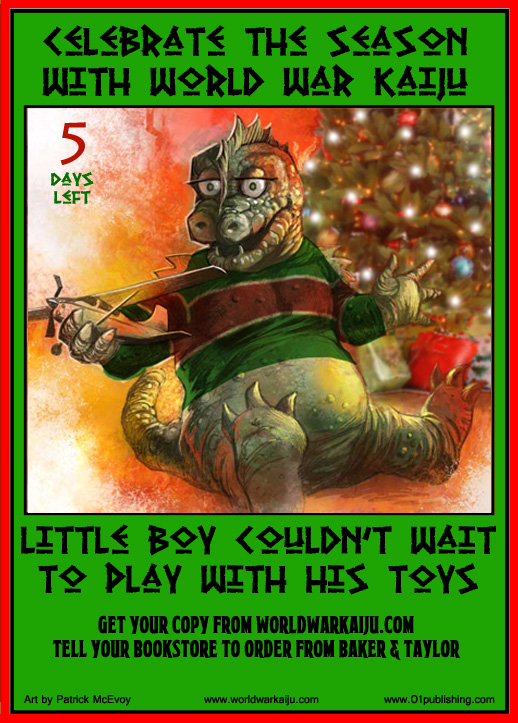 12/15/2014
The Kaiju are getting ready for a holiday bash!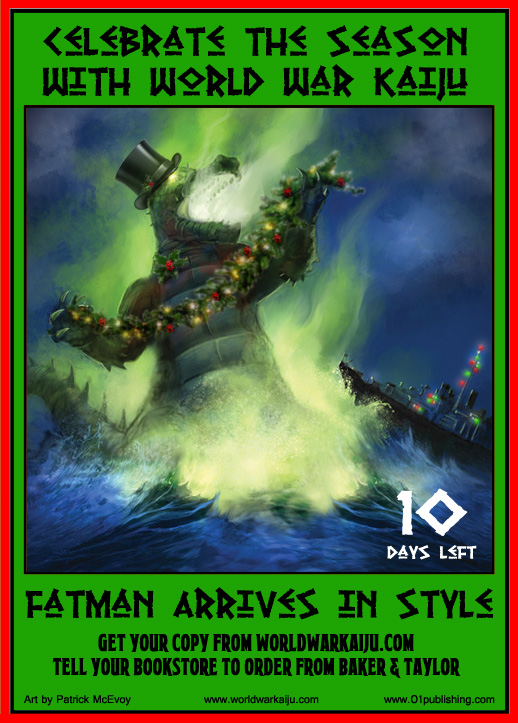 12/10/2014
The Kaiju are getting ready for a holiday bash!
12/5/2014
The Kaiju are getting ready for a holiday bash!
12/4/2014
Yes! It's true! The Kaiju have been dominating the Kindle and now we are in the number 2 spot! Lets see how long it takes for them to stomp all over the number one spot and rule the historical fiction catagory!
10/4/2014

Jack Bottomley of STARBURST Magazine just awarded World War Kaiju 10 out of 10 STARS and gave us a smashing review!! Here is a quote,
…lovers of the genre will be in their element gleefully picking sub-plots and illustrations apart for their references. Some are blatant (Flying insect kaiju Mohdrah for instance) but the better ones are the more subtle references or indeed the sly satirical swipes (there is a whole joke that is clearly referencing Godzooky)… The plot is heavily scientific and yet easily accessible and committingly created for fans, who will be eager for more once that 'end of book one' marker appears (and when it does, the plot appears to have reached fever pitch). From the musings on historical events/people to the revisionist narrative and ideology, World War Kaiju feels dizzying in its aspiration and spirit.
Go to STARBURST's website to read the full review.

9/19/2014
Fresh from the Trinity Test Site, Kai-235 crystals used to create a new kaiju. These crystals have been cleaned of exes radiation and are now winging their way to our Kickstarter backers who wanted a piece of history.
MORE FAN ART!!! 9/16/2014
Awesome piece from Nguyen Nguyen. THANKS!!
LONG BEACH COMIC CON

We're unleashing Kaiju upon Long Beach Comic Con! Come out to the show Saturday and Sunday September 27-28th and get your fix of kaiju action from our latest graphic novel release! And while you are there, check out our other hit books like Utopiates and Crazy Mary.
Come on out to Long Beach Comic Con
September 27-28 at the Long Beach Convention Center.
We'll be at booth 338
See You There!!

REVIEW 9/14/2014
Fit To Read gave WWK an amazing video review! Check it out!!

World War Kaiju made an Amazon top 100 list!! 9/4/2014
NOW AVAILABLE!!!   9/3/2014
WORLD WAR KAIJU!
Atomic monsters are coming to your local store in the form of a graphic novel
that asks, "What if Doctor Strangelove created Godzilla?"
WATCH THE WWK TRAILER: www.worldwarkaiju.com/downloads/
FOR IMMEDIATE RELEASE!
World War Kaiju, the greatly anticipated giant monster Kickstarter success
is now available in stores!
World War Kaiju is the story of an alternate history, one in which the
atom bomb was never created and the ultimate weapon of mass
destruction is the kaiju—fifty foot tall radioactive beasts spawned
from the mysterious KAI-235 isotope. Follow the journey of one
journalist as he teams up with a retired CIA operative to uncover the
truth about the conspiracy behind the monsters and the men who plan to
use them to dominate the world.
Created and Written by Josh Finney (Titanium Rain, Batman Giantsize 80pg)
Illustrated by Patrick McEvoy (Call of Cthulhu, Fall of Cthulhu, Game of Thrones ccg)
Additional scenes by Michael Colbert (Crazy Mary)
World War Kaiju is a tribute to the kaiju genre in all its forms (both
high and low). The brainchild of sci-fi author Josh Finney, WWK is a
love letter to the golden-age of kaiju cinema. It looks back to an era
when the world loved atomic monsters, but feared the atomic bomb, and
warps history in ways that only men in rubber suits can.
For more information visit:
WWW.WORLDWARKAIJU.COM
WWW.01PUBLISHING.COM
To schedule an interview please contact:
Kat Rocha, 01Publishing
Phone: (858) 578-7736
email: kat@glitchwerk.com
Twitter: @Katapult
World War Kaiju is distributed through Baker & Taylor under 01Publishing
The Guest of Honor Has Arrived and We're All Set to Party!
7/17/2014
July 26th sees 01Publishing at Rising Sun Creations in Mission Valley, San Diego to celebrate the unleashing of World War Kaiju on the world, and the guest of honor just arrived.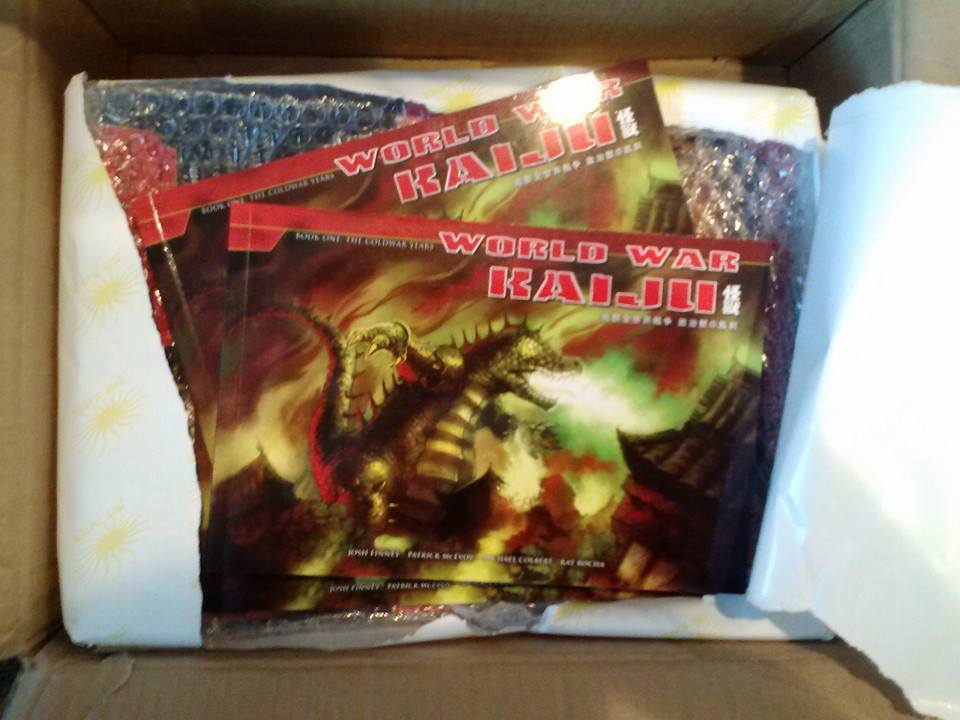 Fresh from the printer, an advanced shipment of World War Kaiju books was delivered to our offices yesterday ahead of the rest to make sure we had them for the party… and they look beautiful!
If you are a fan of giant monsters, historical satire, and amazing stories/art then come out to our launch party! Josh Finney and Patrick McEvoy will be there to talk shop and take sketch commissions. We'll have a raffle for prizes, and BOOKS of course!!
Saturday July 26
4pm – 8pm
Rising Sun Creations
1640 Camino Del Rio North Suite 1478
San Diego, CA 92108
(Old Sweet Factory Space at Westfield Mission Valley Mall)
(619) 291-5264
Magnetic Poetry Has arrived !!!
7/9/2014
World War Kaiju Launch Party Announced!!
6/27/2014

It's their party and they'll smash things if they want to!
San Diego Comic Con is almost here and the kaiju want to party. If you are in the San Diego area on Saturday, July 26th, come down to Rising Sun Creations in Mission Valley for the World War Kaiju launch party! We'll have advanced copies of the book, meet and greet with the creators, a raffle for rare kaiju prizes and more.
Rising Sun Creations is conveniently located on the trolley line. Exit on the Mission Valley stop and walk across the street. For driving directions visit rsc-online.com
See you there!!
INDIE COMIC BOOK NOISE
6/13/2014
Wonderful review from the guys at Indie Comic Book Noise as well as a wonderful pull quote "The book is cool! A mix of sequential art in a painterly style… I enjoyed this quite a bit." -  Indie Comic Book Noise . You can check it out around the 13min mark at IndieComicBookNoise.com

PLANET X CONTROL ROOM INTERVIEW
6/5/2014
Jason and Kent of Planet X Control Room, one of the leading podcasts dedicated to the giant monster genre, sat down with writer Josh Finney and editor Kat Rocha. Listen to this awesome show HERE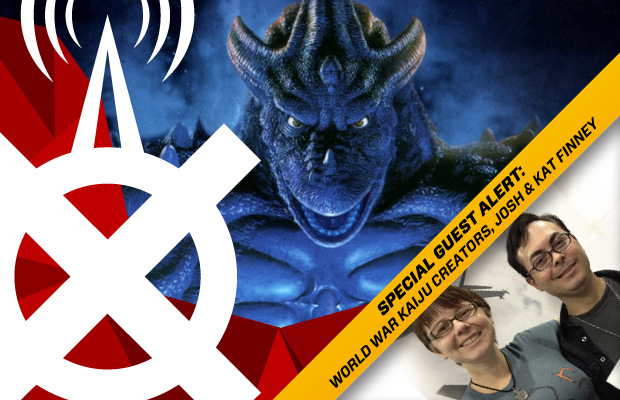 WE MADE IT!! THE KICKSTARTER WAS A SUCCESS!!
8/12/2013

GRAPHIC POLICY COVERS WORLD WAR KAIJU
8/10/2013
Graphic Policy spotlights WWK and gives good reasons why their readers should contribute.  Check it out!
2ND STRETCH GOAL REACHED!
8/7/2013
Team Kaiju hit it's second stretch goal today. Everybody pledging $55 and up will now get the Kaiju Magnetic Poetry kit with their incentive packs.

TEAM KAIJU PODCAST
8/6/2013
Josh Finney, Patrick McEvoy, and Kat Rocha sit and talk about Kaiju, movies, and anything else that comes to mind. Listen now to the Team Kaiju Podcast.  CLICK HERE TO PLAY
BROKEN FRONTIER INTERVIEWS JOSH FINNEY
8/5/2013
A  wonderful interview with Josh Finney of Team Kaiju and Jason Clyma of Broken Frontier about Kaiju, the world, inspirations, and how awesome Patrick's art is. Check it out!
GODZILLA ISLAND: WORLD WAR KAIJU KICKSTARTER HITS IT'S GOAL!
8/5/2013
A great article about WWK's susses in meeting it's initial goal. Check it out!
GODZILLA-MOVIES.COM  Ask the Creators of World War Kaiju Your Questions!
8/1/2013
Chris Picard of SciFied.com invites fans of Godzilla to support the WWK Kickstarter and to pose their own questions for Team Kaiju for an upcoming interview. Check it out!
NEW FAN ART! – ASTRO-KONG!
7/31/2013
Artist Jeremy Rathbone has just contributed to the Fan Art page. Check it out!
BROKEN FRONTIER – WWK HITS KICKSTARTER GOAL TWO WEEKS EARLY
7/31/2013
Broken Frontier covers WWK hiting its goal!
WE MADE OUR FIRST STRETCH GOAL!!!
7/30/2013
Today we made our first stretch goal! Everybody who pledged $55 or more will receive a free bookmark with their incentive!
ANIME VICE – GREATEST KAIJU MOVIE EVER! Part 2
7/30/2013
The continuation of our SDCC 2013  interview with Tom Pinchuk. Enjoy
WAR ROCKET AJAX INTERVIEW 
7/29/2013
Description from their site: "The creative team behind the new graphic novel World War Kaiju joins us for this week's show! We talk about the cultural moment of kaiju, living in San Diego during Comic-Con, the best Godzilla monsters, replacing the atomic bomb, and much more! Plus, a podcastual installment of the War Rocket Ajax Love Haters!"
War Rocket Ajax interviews Team Kaiju 

WE MADE OUR INITIAL GOAL!!!!
7/28/2013

ANIME VICE – GREATEST KAIJU MOVIE EVER?
7/26/2013
Another awesome interview with Tom Pinchuk. This time Josh Finney and Kat Rocha discuss kaiju films after hours at San Diego Comic Con. Enjoy

blastr – 14 AWESOME SCI-FI REWARDS
7/26/2013
A list of awesome Kickstarters with awesome incentives. WWK is number 14. CLICK HERE
ANIME VICE INTERVIEWS WORLD WAR KAIJU
7/23/2013
Tom Pinchuck interviews Josh Finney and Kat Rocha of Team Kaiju. WATCH IT HERE
KICKSTARTER CONVERSATIONS INTERVIEWS TEAM KAIJU
7/16/2013
A fun interview with Patrick, Josh, and Kat. READ IT HERE
MONSTER PROFILES UNLOCKED!
7/16/2013 
The Rogue Kaiju have been unlocked in "The Monster" section of the World War Kaiju website. Enjoy!
MASSIVE PRESS COVERAGE
7/16/2013
World War Kaiju has gotten quite a lot of coverage lately online! Check out these articles…
Mighty Mega
Legendarium
The Examiner
Den of Geek
We Love Comics
Maser Patrol

THE SCIENCE FICTION SHOW
7/15/2013
WWK, Pacific Rim, and Sharknado. What could be better. Listen to Josh Finney and Patrick McEvoy's interview HERE
KAIJUPHILE
7/14/2013
A great interview with Josh Finney and Patrick McEvoy. Read it HERE
GIANT FREAKIN ROBOT
7/12/2013
A great article on our project. Many thanks to Joelle Renstrom. Read about it HERE
ADVENTURES IN SCIFI PODCAST INTERVIEW
7/8/2013
Tim from AISFP sat down with Team Kaiju for a great interview. Click HERE to have a listen.
THE WOMB MATES
7/8/2013
The Womb Mates at Geeq Shuq talk about supporting World War Kaiju on Kickstarter
THIS WEEKEND: Meet Team Kaiju at ANIME EXPO in Los Angeles!!!
7/2/2013
Hello Kaiju lover and Cold Warriors! Team kaiju will be at Anime Expo for the 4th of July Weekend. We'll be at the 01Publishing booth in Row G15. We've got a special opportunity for all World War Kaiju kickstert supporters in attendance. Check your email for more details.

GEEKCAVE PODCAST INTERVIEWS TEAM KAIJU!
7/2/2013 
The fine people over at the amazingly well produced show "The Geek Cave" chat with Team Kaiju and talk about giant monster, deep story telling, and why Patrick McEvoy is such an amazing artist. Check it out now!
SciFi Noise
7/1/2013
Derek Coward talks about World War Kaiju as well as some of the other projects members of Team Kaiju have been involved with. LISTEN HERE
MONSTER PROFILES UNLOCKED!
7/1/2013
The NATO Kaiju have been unlocked in "The Monsters" section of the World War Kaiju website. Enjoy!

JON GIBBONS INTERVIEWS TEAM KAIJU
6/30/2013

Solitaire Rose Radio Podcast
6/27/2013
Two awesome interviews with Team Kaiju
Part 1 / Part2
Why I Love Comics #140
6/26/2013
An engaging interview with Team Kaiju
KAIJU BATTLE BLOG COVERS WWK!
6/26/2013
A blog about monsters talking about our monsters.
MIGHTY MEGA Covers World War Kaiju
6/25/2013
A great source for all things sci-fi. LINK HERE
PRESS SPOTLIGHT: COMIC GEEK SPEAK INTERVIEWS TEAM KAIJU
6/25/2013
The CGS crew interviews Team Kaiju about everything and more.
MONSTER PROFILES UNLOCKED!
6/20/2013 
The Soviet Kaiju have been unlocked in "The Monster" section of the World War Kaiju website. Enjoy!
PRESS SPOTLIGHT! Comic Bastards
6/19/2013
Comic Bastards spotlights World War Kaiju, sharing our press release and encouraging their readers to participate!
PRESS SPOTLIGHT! Collection DX.
6/18/2013
Collection DX spotlights World War Kaiju, sharing our press release and encouraging their readers to participate!
PRESS SPOTLIGHT! Multiversity Comics.
6/18/2013
Multiversity Comics Spotlights World War Kaiju
multiversitycomics.com
As the opening lines say…
You dig giant monsters!
I dig giant monsters!
We dig giant monsters!
Chicks dig giant monsters!
Walt Richardson does an amazing job of capturing the essence of World War Kaiju, while keeping the fun and satire. He also spotlights some of the incentives that we offer to help his readers find the deal best for them.
PRESS SPOTLIGHT! Broken Frontier.
6/18/2013
Broken Frontier spotlights World War Kaiju, sharing our press release and encouraging their readers to participate!
KICKSTARTER UPDATE! Something for Everyone.
6/17/2013
On this third update, we have some new incentives and some announcements for everybody!
First, the Digital Everything Pack now includes a copy of the Kaiju Science Task Force's pamphlet "Duck and Cover"! That means that everybody who has pledged $15 or more automatically gets this added to your incentives at no extra charge!
Second, we've added three new Bookplate Incentives! Twenty of these will feature a one of a kind sketch by either Josh Finney or Patrick McEvoy. Another one hundred bookplates will feature a black and white drawing of one of our Kaiju. All bookplates will be numbered and signed by Team Kaiju.
Third, Patrick McEvoy is now offering a limited number of custom color sketches. That means you will receive a colored sketch of WHATEVER YOU WANT! There are only four of these available so act quickly!
Last, but not least! We have samples of what our propaganda posters will look like!
So please, spread the word! Tell all your friends on Facebook! Talk about us on Twitter! Mention us to your favorite entertainment news site or online forum. We need YOU to help make World War Kaiju a Success. And thank you all so much again for your support.
-Team Kaiju
KICKSTARTER UPDATE!  Day 2 and almost 20%!
6/15/2013
First, again, HUGE thanks to everyone who have contributed. Because of you, as of the writing of this update we are already 16% towards our goal.
But we still need your help. Please spread the word on twitter and facebook. Tell your friends and get others involved. Together, not only can we reach our goal but we can hit our stretch goals for a larger book for all.
Now for some exciting news!
We have added a new incentive! Patrick McEvoy has offered to do an acrylic painting on canvas for two backers of their kaiju of choice from WWK for a pledge of $1,000. Check out the details in the intensives page.
Thanks again to everyone.
Visit us on facebook: https://www.facebook.com/WorldWarKaiju
Go to the main website: http://worldwarkaiju.com/
PRESS SPOTLIGHT! Top 100 Graphic Novels!
6/2013
Top 100 Graphic Novels did a spotlight on the nine Kickstarters they thought everybody should see, and World War Kaiju was one of them. Thank you guys for your support.
KICKSTARTER UPDATE!
6/14/2013
WOW! I can't believe it! It's only been the first twenty four hours and we've already raised 11% of our main goal! Thank you all so much for coming through. World War Kaiju is going to be an amazing book and it is because of your support. But we still have a long way to go. Please take a moment of your day to mention Kaiju on Twitter, Facebook, emails to friends, or other social networks. Get the word out. This is key. Together, we can not only make Kaiju a reality but we can reach our stretch goals that will allow EVERYONE to have an even larger book to enjoy.
Ok, on to the fun stuff!
One of our goals for all of these updates is to show you, the backers, examples of each of the incentives! Today we are going to show you an example of one of the amazing pencils that Patrick McEvoy drew that lead to the finished painted panels of the book. These pencils are currently being offered as incentives and at a limited supply so get them now while you can.
-Kat
KICKSTARTER UPDATE!
6/13/2013
It's been just half an hour since the Kickstarter launched and already we are getting pledges. Thank you so much to everybody who is hopping on and joining the Science Kaiju Task Force. We know we can make our goals with your support!
Thank You!